M a r k e t N e w s
Kenya to Explore Bidders for 185,000 bl Crude Cargo
Posted on : Friday , 14th August 2020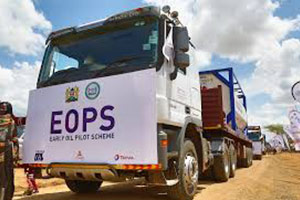 The Kenyan government plans to initiate taking bids for the second and final cargo from the country's pilot crude export scheme in September.

The scheme which involved trucking oil from fields in the South Lokichar basin by road to the Indian Ocean port of Mombasa ended at the start of June, two years after it incorporated. Kenya exported its first ever crude cargo, a 240,000 bl shipment, in August last year as part of the pilot scheme.

The government and the joint venture partners developing the South Lokichar fields London-listed Tullow Oil, Total and Canada's Africa Oil have around 185,000 bl left over from the pilot scheme to sell. "We shall start receiving bids in September and thereafter start the process of identifying potential buyers for this crude oil," energy ministry permanent secretary Andrew Kamau told Argus.

Tullow said the pilot scheme won its objectives and has provided critical technical data, logistical and operational experience to assist the government and the joint venture partners as they prepare for full development of the South Lokichar basin.

The partners plan to develop the Amosing, Ngamia and Twiga fields in South Lokichar with a 60,000-80,000 b/d central processing facility and a heated export pipeline to the port of Lamu.

Kamau added "We shall now sell the consignment at Mobassa and aim for the final investment decision (FID) for both the oil fields' development and the crude export pipeline scheduled for around late this year," .

Tullow has said that reaching FID this year will be "very challenging" and that recent changes to tax legislation relating to the government's response to Covid-19 have "changed the project's economics". Tullow operates the South Lokichar project with a 50pc stake. It is projecting to sell a 20pc share.
Source : www.innzaf.com