M a r k e t N e w s
French oil firm Total along with Canadian Natural Resources Ltd announced discovery of a sizable amount of gas offshore South Africa
Posted on : Thursday , 7th March 2019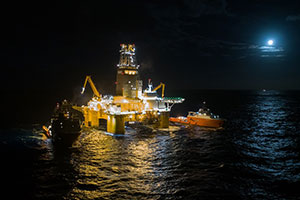 Gas discovery in the offshore Outeniqua Basin of South Africa has opened new hope of the consolidation of new mineral wealth in the country dependent on gold and diamond minerals.

French major Total and its partners, Qatar Petroleum, Canadian Natural Resources, and Main Street, have declared discovery of a sizable amount of gas offshore South Africa.

Total declared a significant gas condensate discovery on the Brulpadda prospects, located on Block 11B/12B in the Outeniqua Basin, 175 kilometers off the southern coast of South Africa.

The Brulpadda well experienced 57 meters of net gas condensate pay in Lower Cretaceous reservoirs. Following the success of the main aim, the well was deepened to a final depth of 3,633 meters and has also been successful in the Brulpadda-deep prospect.

Kevin McLachlan, Senior Vice President Exploration at Total, said that, "We are very delighted to declare the Brulpadda discovery which was drilled in a challenging Deepwater environment. With this discovery, Total has come up with a new world-class gas and oil play and is well positioned to test several follow-on prospects on the same block."

"The gas discovery could contain 1 billion barrels of total resources and is most likely quite big", said Chief Executive Patrick Pouyanne.

Mineral resources minister, Gwede Manthashe, said in a statement, ""It is potentially a major uplift for the economy."

The African Energy Chamber (AEC) welcomes the latest gas condensate discover saying this is a great first step for the country which still depends on imports of oil and gas regardless of the great reserves believed to be in its soil and waters.

The discovery, which will help to come up with a new hydrocarbons province in South Africa, could prove the presence of billions of barrels of oil equivalent in South African waters, which will indubitably change the course of the country's economy and help decrease dependency on imports.

Total has been present in South Africa since 1954. The Group is active on the whole oil and gas value chain and directly employs 1,000 people in the country.

With South Africa demonstrating a promise to reforms and the creation of an qualifying environment for business, the oil industry is confident that the country can attract the investment needed."
Source : newzmart