M a r k e t N e w s
2D seismic in Ethiopia s Rift basin Area set for Q4
Posted on : Wednesday , 20th August 2014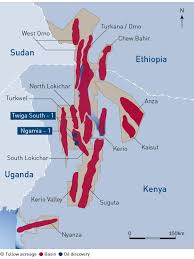 Africa Oil is set to commence with a 2D seismic program in the Rift Basin Area, located north of the South Omo block in Ethiopia, next quarter.
This is part of the planned work program by the block operator Africa Oil which is expected to range between 400 and 1200 kilometer for the initial exploration period which expires in February 2016.
"In Ethiopia, the Company, as operator, and its partner are making preparations to acquire a minimum 400 kilometer 2D seismic program over the Rift Basin Area commencing in the fourth quarter," Africa Oil states in the latest operation update.
The seismic follows a 36,500 line kilometer Full Tensor Gradiometry ("FTG") survey completed in October 2013.
The Rift Basin Area covers 42,519 square kilometers and is on trend and extending to the northeast of the highly prospective blocks in the Tertiary rift valley including the South Omo Block, and Kenyan Blocks 10BA, 10BB, 13T, and 12A.
Marathon Oil and Africa Oil both have 50 percent interest in the Rift Basin Area in Ethiopia with the latter maintaining operatorship of the block.
Marathon Oil which farmed into the block earlier this year however has the right to assume operatorship if a commercial discovery is made.
Following the February farm-out Marathon Oil paid Africa Oil an entry payment of $3 million in respect of past costs as well as agreed to fund $15 million of Africa Oil's working interest share of joint venture expenditures in the Rift Basin Area.
Source : oilnewskenya.com