M a r k e t N e w s
Angola produced 1.7 million barrels of oil per day in July
Posted on : Tuesday , 19th August 2014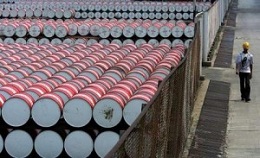 Angola produced 1.7 million barrels of oil per day last July, Petroleum Minister José Maria Botelho de Vasconcelos announced on Wednesday in Luanda.
The production figure shows a growing tendency toward achieving the production target of 2 million barrels of oil per day in 2015, Botelho de Vasconcelos said during a seminar on dispersants and on-site burning.
Cited by Angop news agency, he specified that more than 99 percent of Angolan production is offshore, with two-thirds from deepwater operations at depths of more than 2,000 metres, which presents many risks and huge challenges.
Meanwhile, figures released by the Finance Ministry indicate that tax revenue from oil exports fell to US$17.9 billion from January thru July, versus US$22.3 billion in the same period of 2013.
In the first seven months of the year Angola exported 338.7 million barrels of oil (down nearly 30 million barrels year-on-year) at an average price of US$107.51 per barrel.
The data indicate average daily production of 1.59 million barrels, up slightly over previously released figures on the first five months of the year, when production stood at 1.57 million barrels of oil per day.
Source : energymixreport.com