M a r k e t N e w s
Canada To Support EAC Energy Sectors For Local Benefit
Posted on : Saturday , 11th May 2019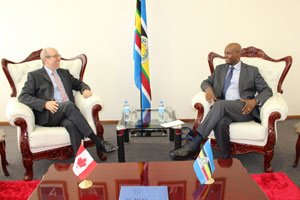 The East African Community (EAC) summons for extended support from Canada, one of the leading development partners to Africa. The community is specifically pressing for assistance in the infrastructure and trade sectors to help it gain its intergrated agenda.
Mr. Liberat Mfumukeko, the secretary general said, "There is an urgent need to upscale the EAC-Canada relations as well as Canada's support".
He made the call when he met the Canadian High Commissioner to Tanzania, Ms Pamela O'Donnell, who is aslo accredited to the EAC.
The Envoy was briefed, during the meeting at the community headquarters, on the latest milestones recorded in the four intergration pillars.
They aslo conferred on Canada's support to the African Continental Free Trade Area (AfCFTA) and the Burundi peace process.
The meeting stressed the need for the two sides to deepen cooperatin to speed up the EAC regional intergration initiatives through speedy implementation of projects.
Ms O'donnell reaffirmed her country's commitment to support the EAC, saying regional economic groupings were key in boosting regional and international trade.
Canada joined a host of donor countries with full diplomatic representation at the Arusha-based EAC in 2017.
When Ms O'Donnell predecessor presented his credentials, the two sides stressed cooperation in trade, agro-processing and investment.
Although it trails, the European Union, Germany and the United States, Canada has featured in investment flows in gas, oil and minerals projects to EA.
One of them is the Canadian-supported five year project aimed to push for law reforms in the oil and gas sector.
The one million Canadian dollor Supporting Inclusive REsource Development (SIRD) seeks to make the key energy sectors beneficial to the local cummunities in the region.
Source : africaznow