M a r k e t N e w s
Natural Gas Plant Construction to Begin in 2022
Posted on : Wednesday , 27th June 2018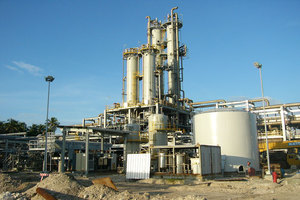 The Energy Minister said that the Actual construction of a Liquefied Natural Gas (LNG) plant in Tanzania will start in 2022.
Dr. Medard Kalemani told the Parliament "We met the investors and everything is progressing well right now what is happening now is that the multinational firms are competing among themselves regarding which one should lead the project execution. By 2022, actual construction will start,"
Dr. Medard Kalemani was one of the ministers who took turns to respond to queries and views, raised by Members of Parliament (MPs) during the six days of debating the government's Sh32.5 trillion budget proposal for the financial year 2018/19.
Presenting the committee views on the 2018/19 budget, Ms. Hawa Ghasia the body's chairperson said that an American multinational, Exxon Mobile, was contemplating to sell its stake in Tanzania's natural gas industry was bad for the goal of setting up a Liquefied Natural Gas (LNG) plant in the country.
Exxon Mobile announced that it was seeking buyers for its stake in a large undeveloped gas field off Tanzania so it could focus on the development of an even bigger project in neighboring Mozambique.
Exxon Mobil holds a 35 percent stake in Tanzania's deepwater Block 2 field. The company holds an estimated 23 trillion cubic feet (Tcf) of gas out of Tanzania's proven reserves of 55.08 Tcf.
Last year, the company also bought a 25 percent stake in Mozambique's offshore gas-rich Area 4 development from Eni. Area 4 is one of the world's largest gas discoveries in recent years which holds an estimated 85 Tcf.
Though it was true that Mozambique was making strides in the execution of its LNG project, it was also worth noting that Tanzania was not very far from realizing the same dream said Dr. Kalemani.
"It is true that Mozambique is doing well but Tanzanians should also understand that we are not very far from that stage," he said.
Ling'oko village in Lindi is where the LNG will be built.
Apart from Exxon Mobile, others partners in the planned LNG project include the government - through the Tanzania Petroleum Development Corporation (TPDC) - and BG/Shell, Statoil, Ophir as well as Pavilion.
Source : Bizmap