M a r k e t N e w s
Fire Protection products and services to be showcased by NAFFCO at the 7th Oil and Gas Africa 2018 in Kenya
Posted on : Thursday , 3rd May 2018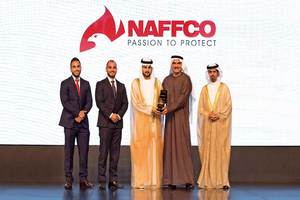 NAFFCO the Middle East's leading producer and supplier of life safety solutions will present its wide range of fire safety equipment at the 7th Oil and Gas Africa organized by Expogroup in partnership with EACCIA, Town and County Planners Association of Kenya and the Ministry of Energy and Petroleum at the Kenyatta International Convention Center (KICC), Nairobi from the 29th to 31st of May.
As an industry leader in fire protection services, NAFFCO offers a full range of diversified products and systems like fire detection systems, fire alarm, power plant and oil refinery fire protection, gas detection and fire suppression systems tailored to meet customers' special needs.
The 7th Oil and Gas Africa comes at a time of cautious optimism among oil and gas producers. Global oil prices topped $60 per barrel last year for the first time in more than two years, while the industry is now benefiting from sustained and significant efforts to improve operational efficiencies and diversify operations as it adjusts to a changing energy landscape.
In line with the industries strategic direction, Oil and Gas Africa's main objective is to help the country find new partnerships and new opportunities as the foundation for generating sustainable, long-term revenues.
NAFFCO has executed many prestigious projects worldwide such as industrial manufacturing plants, power generation stations and Oil and Gas facilities for both the Private and the Government sectors.
The exhibition will provide NAFFCO the ideal platform to establish successful business relations with importers, agents and partners in Kenya, whilst allowing them to raise brand awareness by presenting their products and innovations to a highly qualified audience.
Source : izmap