M a r k e t N e w s
Total Kenya parent firm's profits surge as oil prices rise
Posted on : Friday , 11th August 2017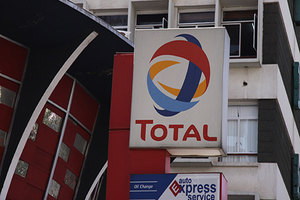 French oil company Total said Thursday underlying profits gushed higher in the second quarter thanks to a recovery in the price of oil, with the company also benefitting from increased output.
The firm's measure of adjusted profits that excludes exceptional items climbed 14 per cent from the same period last year to $2.5 billion (about Sh260 billion).
That beat the consensus forecast of analysts surveyed by financial data firm Factset, who were expecting on average $2.3 billion (about Sh239 billion) in adjusted profits.
While crude prices have slid since the beginning of the year as OPEC and Russia struggle to implement an accord to limit output, they are still considerably higher than one year ago, helping oil firms earnings comparisons on an annual basis.
Total said the average price of Brent crude, the main international oil contract, was up by 9 per cent in the second quarter from the same period last year.
Moreover, Total was able to increase its output by 3 per cent to 2.5 million barrels per day in oil equivalent thanks to new projects coming on line in Kazakhstan and Congo.
It expects production to rise over 4 per cent for the year as a whole.
"In a price environment that remains volatile, Total again delivered an excellent set of quarterly results," chief executive Patrick Pouyanne was quoted as saying in the company's earnings statement.
Total's efforts to improve its financial health over the past few years put the firm in a better position to deal with the uncertain market conditions where oil prices have remained low, he said.
"...the Group has the flexibility to take advantage of the low-cost environment by being able to launch profitable projects and acquire resources under attractive conditions," said Pouyanne.
Total shares were up 0.4 per cent in midmorning trading while the CAC 40 index in Paris was up 0.1 per cent overall.
Source : http://www.businessdailyafrica.com